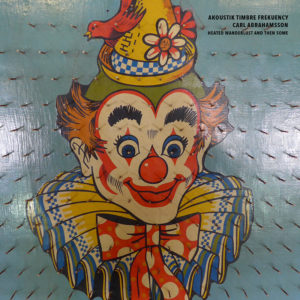 Carl Abrahamsson & Akoustik Timbre Frekuency: Heated Wanderlust & then some
Swedish author/musician Carl Abrahamsson (of White Stains and Cotton Ferox fame) has teamed up with UK sound/music wizard Priapus 23 of the project Akoustik Timbre Frekuency. The result is a mind-bending trip into a sonic world of gongs, bells, percussions; all surrounding Abrahamsson's weird vocal introspections. Where do they go? Where do we end up? Almost everywhere and nowhere at the same time. But when they go, they go in style. Carrying on his work in legendary projects White Stains and Cotton Ferox, Abrahamsson's collaboration with Priapus 23 is another deep-diving slip-and-slide into the deepest dimensions of human consciousness. Immersed in sounds and frequencies, the poetry will let you sink and sink some more… Will you be able to come back?
Highbrow Lowlife HiLo 038, 2018.