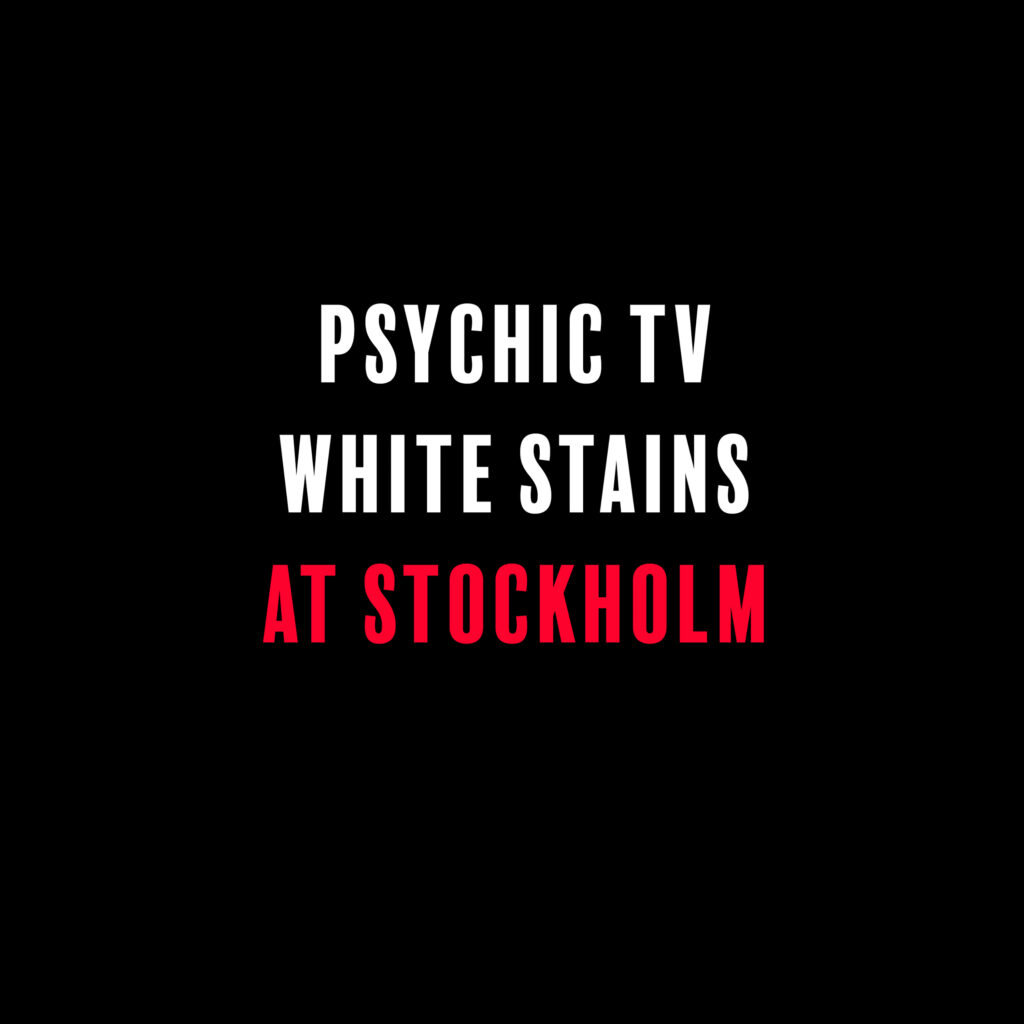 Psychic TV & White Stains: At Stockholm
This classic spoken word album was recorded in Stockholm in 1989, as Genesis and Paula P-Orridge (Psychic TV) were on a mini tour of Scandinavia. White Stains (Carl Abrahamsson & Thomas Tibert) prepared musical backgrounds that were also used by the P-Orridges on this tour. In Stockholm, the material was properly recorded and mixed together at the band's "Reality Studio." Originally released on CD by Psychick Release in 1990, the result has been hailed as a magical spoken word masterpiece, in which Genesis P-Orridge's poetry and eloquent delivery professionally peaked. Enmeshed in the sensuous, psychedelic sounds of White Stains, and in Paula P-Orridge's trippy samples, Genesis' gentle and magical voice journeys from desperate depths to heavenly heights. "At Stockholm" is a quintessential gem of a collaboration that has inspired countless similar projects in which ambient music nurtures evocative and powerful human words, and vice versa.
THE MUSICAL INDEX:
Power (5.44)
 2. Testicle Waltz (3.30) 
3. Arachniac Resurgence (1.41) 4. The Bloody Skin (5.13)
 5. Hydros Amrita (7.34) 
6. Tjoflöjt (3.19) 
7. In'sh Allah (7.11)
 8. TOPY Mass (3.49)
 9. The matter of matter (4.04) 10. Defunct (11.42) 
11. Casa Delirium (3.45) 12. Arcadia too (2.30)
 13. No hallucination (7.17) 14. Correctum Profundis (3.06)
HILO-014
C & P 2023 Highbrow Lowlife
Available at:
released July 21, 2023
All music by White Stains (1989 incarnation: Carl Abrahamsson, Thomas Tibert, Pär Aronsson). All lyrics by Genesis P-Orridge, except the poem "At Stockholm", by Aleister Crowley (Used by permission of OTO). Swedish translation of "Message from Thee Temple" by Carl Abrahamsson. Tapes and samples/sounds: Paula P-Orridge. Recorded, mixed and produced at The Reality Studio, Stockholm, 1989. Mixed by Thomas Tibert and Pär Aronsson. Produced by Thomas Tibert and Carl Abrahamsson. Digitally remastered by Thomas Tibert 2013. Published by Interzone Music Publishing Ltd/Freibank.