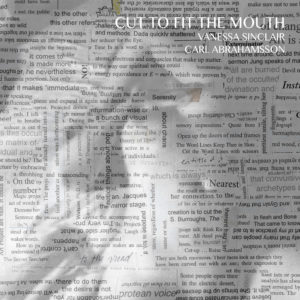 Vanessa Sinclair & Carl Abrahamsson: Cut To Fit The Mouth
Vanessa Sinclair is an artist and psychoanalyst who explores the magical practice and artistic expression of the cut-up method. Carl Abrahamsson is a Swedish artist with an extensive past and present of art and music making on the international occultural scene. Together, Vanessa and Carl collaborate on readings of cut-up texts mixed with sound and music. CUT TO FIT THE MOUTH is their first album collaboration and contains nine pieces of mind expanding sounds and words.
HILO-034
"Cut To Fit The Mouth" was the first album by Vanessa Sinclair and Carl Abrahamsson to be released (on cassette by Arcana Machine, 2017, and on digital by Highbrow Lowlife, 2018). This special Trapart Editions release consists of a standard version (16 copies) and a boxed, deluxe version (7 copies).
The standard edition consists of one CD, one information sheet, one textual sheet, and one photograph of the artists performing live at the opening of their exhibition "Cut To Fit The Mouth" in Sundsvall, 2019, assembled in a special Highbrow Lowlife envelope. This version is limited to 16 numbered copies.
The deluxe edition contains the same items as the standard edition, plus one facsimile sheet of the cassette release's special collage, one extra photo of VS & CA, one copy of the cassette released by Arcana Machine, plus one unique cut-up signed by Vanessa Sinclair. All of these items are housed in a sturdy and elegant box. This version is limited to 7 numbered copies.